Vitamin D & other nutritional supplements to protect against severe COVID-19 symptoms

This is the only way we can cope with COVID-19 without the twin disasters of the suffering, harm and death caused by some people's weakened and dysregulated immune response to SARS-CoV-2 infection and the comparably deadly, disastrous, lockdowns which are currently government's only way of protecting people from harm and death. (The current vaccines - most of which are not true vaccines and are highly experimental - are protective for a while and are . However, new viral variants require repeated rounds of vaccination of most of the population - and the variants arise faster than this can be done.)

Ivermectin is also useful for prevention and treatment of COVID-19.

For links to the most pertinent research on why vitamin D (and Ivermectin) are effective at reducing severity of COVID-19, as well as reducing transmission, please see this page on my other site:


I am writing articles (three so far) at https://nutrtionmatters.substack.com - where comments an be made.


Robin Whittle rw@firstpr.com.au 2021-11-12


I have a second website, and some infographics there and below:


Some of these infographics were in tweets: https://twitter.com/RobinWhittle3/



#vc




The association between vitamin D levels and the clinical severity and inflammation markers in pediatric COVID-19 patients: single-center experience from a pandemic hospital
Elvan Bayramoglu, Gülsen Akkoç, Ayse Agbas, Özlem Akgün, Kamer Yurdakul, Hatice Nilgün Selçuk Duru & Murat Elevli
European Journal of Pediatrics 2021-03-31
https://link.springer.com/article/10.1007/s00431-021-04030-1
For the Stagi et al. 2015 article on Kawasaki disease and vitamin D: #2015-Stagi.





Different observations show the same relationship between low vitamin D and severe COVID-19, although here the vitamin D blood level is on the vertical axis:

#uknewborns

Two infographics concerning the very low vitamin D levels of newborn babies in the UK. Their mother's vitamin D levels are on average about 40% above their baby's levels - and these are still low for most mothers.

Babies are trying to build their bodies. It is Adults' responsibility to ensure Babies and their Moms are well nourished. With all our knowledge and resources, we should do better in this, the most basic and important of our responsibilities. The failure to do so for so many Moms and their Babies seems to me like BARBARIC NEGLECT. (I know it is

mum

in England, where I was born, but I like the American

mom

which is good in both private and public contexts.)


While I share the authors' serious concern about these low levels, I am opposed to fortifying food with vitamin D because it cannot achieve the ~50ng/ml 125nmol/L 25OHD levels we need, because it may give a false sense of security and because all government efforts which might to into food fortification would be better directed at encouraging and supporting everyone to robustly supplement with vitamin D3, all year round, with perhaps less in summer - while avoiding excessive (sunburn creating) UV-B exposure: https://vitamindstopscovid.info/01-supp/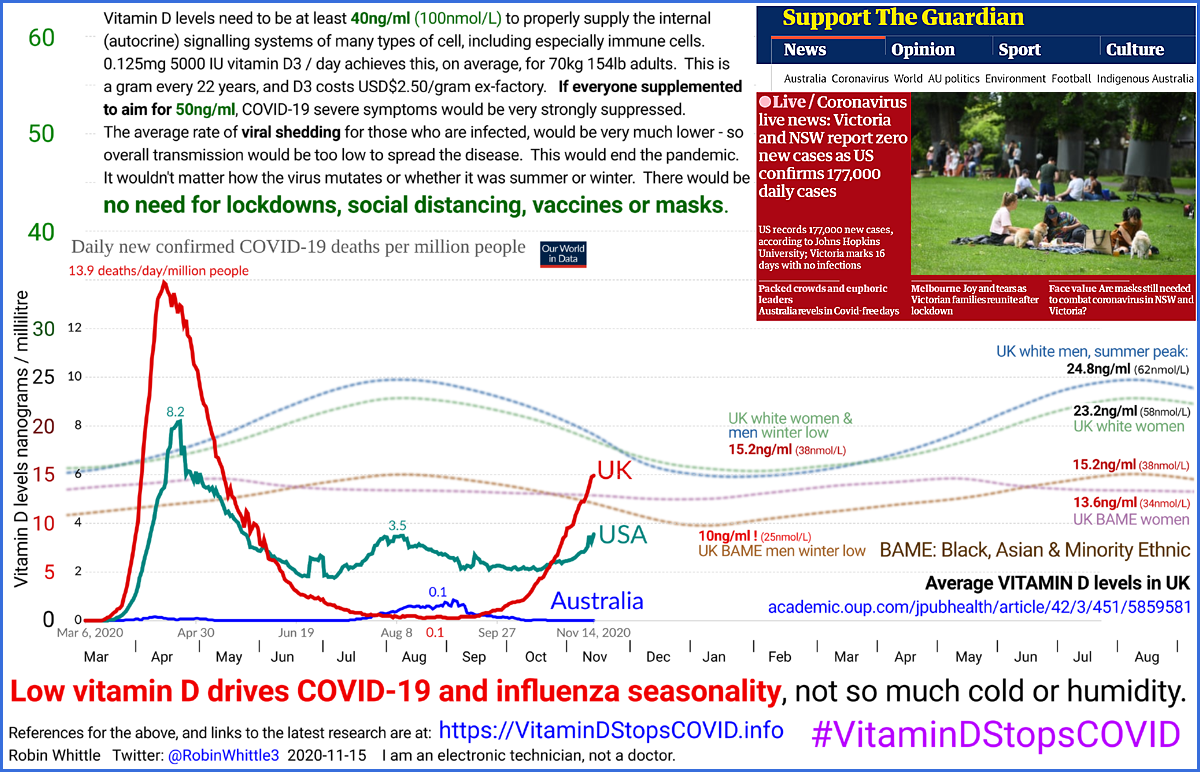 and:



#ukseas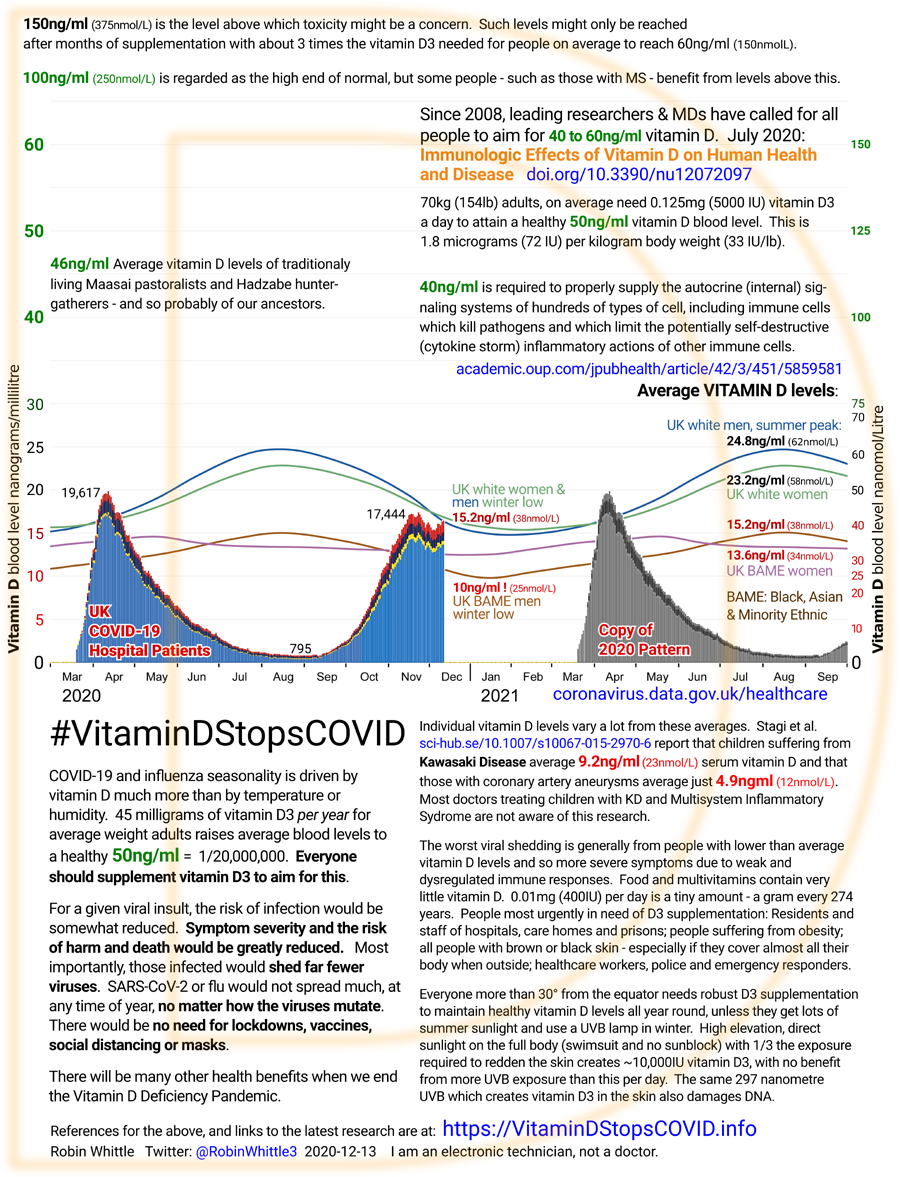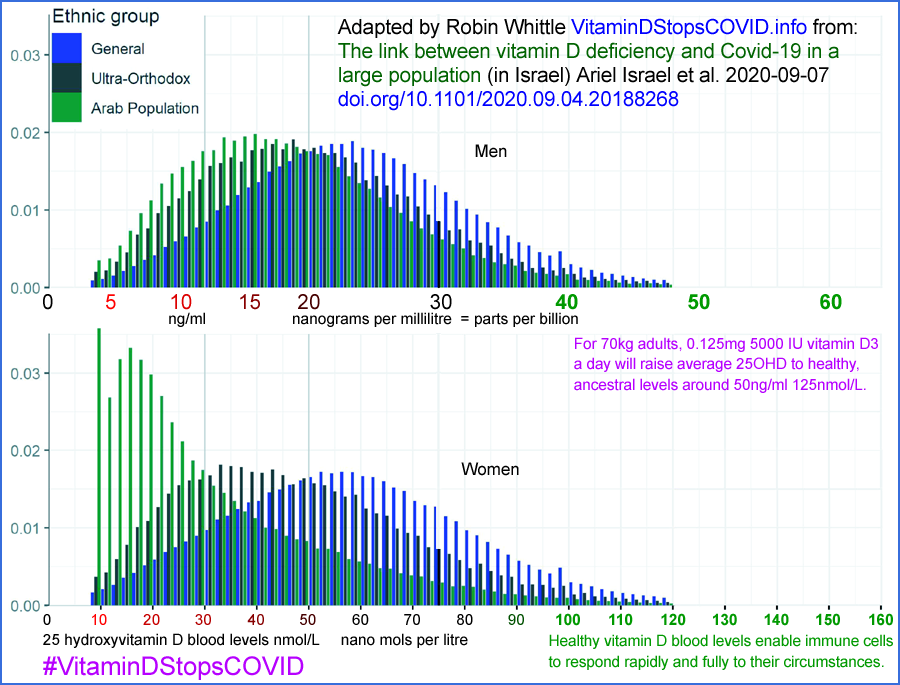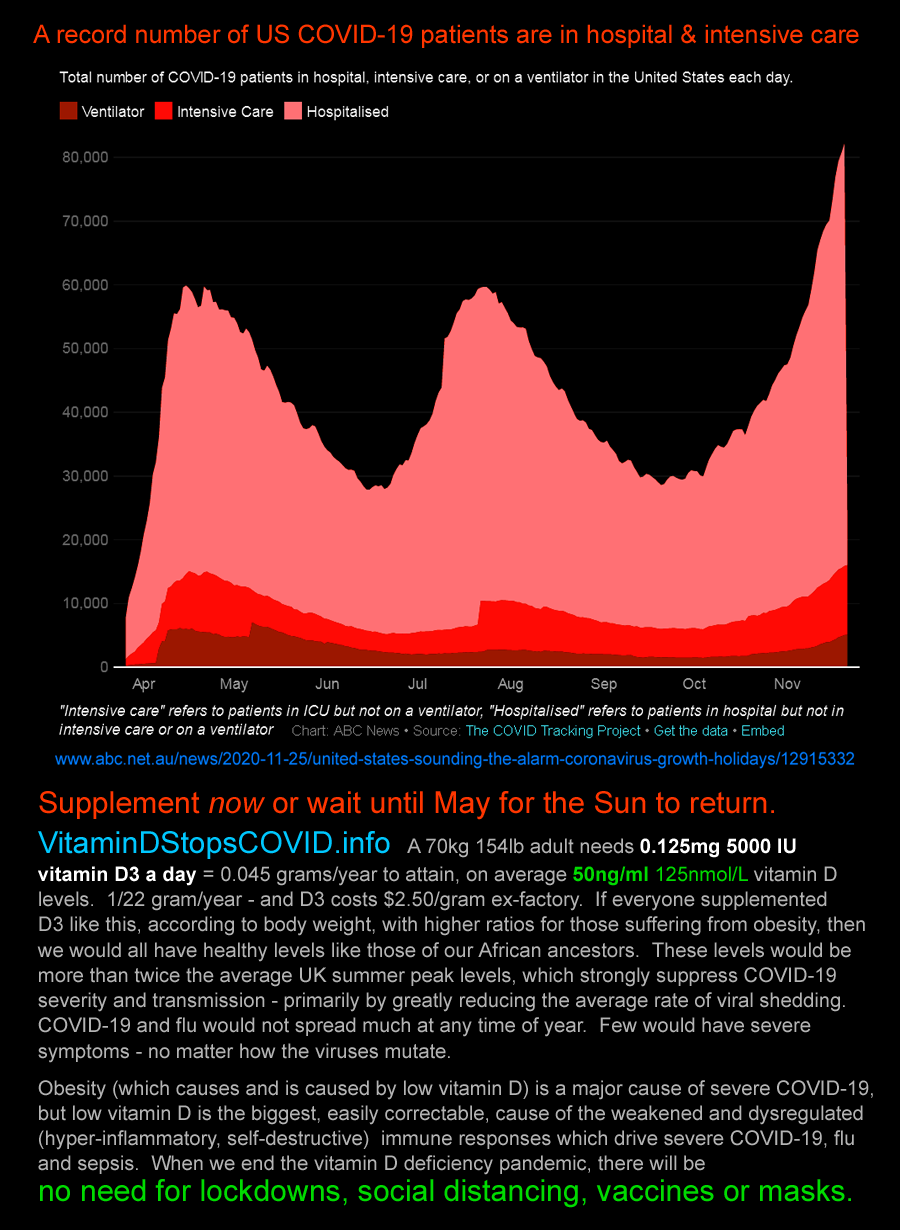 Quick intro
Everyone would be somewhat

less likely to be infected

by the SARS-CoV-2 virus (which causes COVID-19) for any given viral insult.


If they were infected, their

symptoms would be much milder

than if they were infected with their current deficient levels. In most cases there would be

few, if any, symptoms

. Severe symptoms would be very rare and likewise the

risk of death would be very much diminished

.


If they were infected, they would

shed viruses at a lower rate

then they would with their former, deficient, vitamin D levels. They would also

shed viruses for fewer days

.



So the spread of COVID-19 would be greatly reduced, and for most people there would be no problems if they were infected

. (This would provide some immunity, for months or perhaps years.)



2020-09-29 update: Please see this

excellent video presentation

at VitaminDUK.com :





Vitamin D supplementation guide - especially concerning COVID-19
#mn-xover
Mother Nature's crossover trial of summer and winter vitamin D levels
#kp
The case for worldwide vitamin D supplementation

#lr
Latest research concerning COVID-19, immune system regulation, vitamin D and other nutrients
News and updates
#vitd-basics
Vitamin D basics:

#vitd-autocrine
Vitamin D in autocrine and paracrine signaling

#2020-Israel
Vitamin D and COVID-19 in 4.6 million Israelis:
Other pages here

Contents of this long page

#intro
Introduction
#othersites
Other sites concerning Vitamin D, the immune system and COVID-19
Sometime in the future - a new website
#2020-Davies
Recent articles concerning COVID-19 vitamin D and other nutrients

#2020-Castillo
Spanish Cordoba vitamin D (calcifediol = 25OHD) intervention trial provides dramatic reduction in COVID-19 severity and deaths
#2020-Afshar

Iranian MDs in hospital in Dubai: ratio-based vitamin D recommendations, bolus doses and 25OHD levels above 40ng/ml resulting in COVID-19 hospital stays of no more than 3 days, with no need for intensive care and no deaths

#2020-Rastogi

Vitamin D3 bolus AKA loading dosing: 1.5mg (60,000 IU) D3 a day for 7 or more days greatly helps people with asymptomatic or mild COVID-19 overcome the viral infection

#25plusD3
25plusD3 - my suggestion for a D3 & 25OHD calcifediol combination supplementation treatment for COVID-19, Kawasaki disease, Multisystem Inflammatory Syndrome, severe influenza and sepsis

#calcifediol-availability
(Until April, 2021, limited) Availability of 25OHD calcifediol for human use in the USA, and probably in many other countries as well - but it is
now available, online, without prescription, in Australia and the USA
#calcifediol-avail-au
DSM's
ampli-D

® - 25OHD calcifediol tablets for human use is

now available as FORTARO, online, without prescription, in Australia!



#calcifediol-lab-agri

Alternative sources of calcifediol, including lab grade pure powder and DSM Hy-D diluted powder intended for agricultural animal feed

#2015-Gibson

Vitamin D3 itself, without conversion to 25OHD, protects endothelial cells, which form the inner lining of blood vessels

#2020-Mardani

Vitamin D 25OHD levels of Iranian patients without COVID-19, with COVID-19 who survived and of those who died due to COVID-19

#2020-Jain

Indian hospital observational study of initially asymptomatic patients and those who were admitted, at first, to intensive care

#2020-Gennari

Milan study: Vitamin D levels correlate inversely with COVID-19 severity

#2020-Panagiotou
Newcastle upon Tyne (UK) COVID-19 patients are vitamin D deficient - and the ICU patients are more deficient

#2020-Merzon
Israeli COVID-19 positive patients who require hospital treatment have lower vitamin D levels than those who don't

#2020-Maghbooli
Iranian COVID-19 patients' symptom severity, inflammatory biomarkers and death rate correlate with low vitamin D levels

#hazard
Contemplating a COVID-19 suffering, harm and death hazard curve according to vitamin D levels
#2020-Baktash
Baktash et al. in Southern England: Elderly COVID-19 patients have low vitamin D levels

#2020-Shakoor
Shakoor et al. Be well: A potential role for vitamin B in COVID-19

The majority of Italian COVID-19 patients are vitamin D deficient



Latitude and COVID-19 severity - solar UV exposure and vitamin D

#az-trial
Arizona State University trial of vitamin D to reduce COVID-19 severity

#veracity
#2020-Raharusun
#2020-Alipio
Reports of research from Indonesia and the Philippines which I previously accepted and quoted are, in my opinion now, completely fictitious

Singapore trial of 1000IU vitamin D3, B12 and magnesium

Research from Belgium, Louisiana, a homeless shelter in Boston . . .

. . . . France (nicotine?), Ireland . . .
Ending the global vitamin D deficiency pandemic

COVID-19 induced Kawasaki disease in children and babies

#uk-bame

UK discussion about BAME community susceptibility to severe COVID-19 symptoms generally ignores vitamin D

#pep-talk
Pep-talk for doctors regarding the need for robust vitamin D supplementation to protect against severe COVID-19 symptoms
#2020-Baker-a
Articles concerning vitamin D supplementation to protect against harm and death from COVID-19
2400IU (0.06mg) a day D3 raises the 25OHD levels of most, but not all, white women in the USA above 30ng/ml - but few have their levels raised to the 40 to 60ng/ml range required for optimum health

Doctors advising vitamin D supplementation in sufficient quantities to raise 25OHD to 40 to 60ng/ml, which they regard as being vitamin D replete
#Maharashtra-police
Indian Police receive substantial vitamin D supplementation
Other articles not yet mentioned
#low-verylow
Irish doctors debate whether to use low or ridiculously low doses of vitamin D3
#21authors
21 authors advise very low levels of D3 supplementation, aiming for a minimum 25OHD level of only 10ng/ml
#weak-sys
COVID-19 pathology - weak and dysregulated immune systems
#helminthsgone
Weak and dysregulated, over-inflammatory, immune responses are caused by lack of helminths, individual genetic variation, dietary excesses and several common nutritional deficiencies

#vaccines

COVID-19 vaccines and immunity - robust vitamin D supplementation will be far superior to even the most perfect vaccine

#disclaimer

Disclaimer!
About
Contact
Copying
#plan
Plan for better nutrition and guidance regarding fever
Primary problems concerning immunity, health in general and COVID-19 in particular
We can't stop the virus spreading, or change the genes which evolved in our ancestors
Nor can we coexist with COVID-19 by using vaccines, antivirals or lockdowns
We can - and must - improve nutrition to correct many of the failings which cause people's immune systems to be weak and/or dysregulated
Other solutions having been highlighted, we now focus on nutrition to improve the function of the immune system, general health and to reduce hypertension and the risk of stroke

Recent updates are above this point.

Below is what I will work on next, when I get time. All that follows will soon be greatly revised and reorganised:



---
#msg
Updated version of the message I wrote to clinicians and researchers in late March

Contents
#00-survival
Poor survival rate once people need breathing assistance
Most people's battle against the virus will be lost or won at home, not in hospitals or doctors' clinics. Zhou et al. (below) report that of 34 patients receiving invasive mechanical ventilation or ECMO [WP], only 1 survived. The survival rate for non-invasive ventilation was 2/26 and for nasal breathing support, 8/41. Antivirals and antibiotics help, but we will soon run out of these.

Coronavirus home remedies as suggested here - nutritional supplements to enhance immune system function, especially by reducing the overly-aggressive pro-inflammatory responses which cause sepsis - can make a substantial contribution to public health in this disastrous situation, given doubling times of half a week, and the impossibility of retaining sufficient social distancing for 6 months or more.

Clear guidance regarding paracetamol, ibuprofen, aspirin and NSAIDs in general

Please see the separate page on this: http://aminotheory.com/cv19/fever/ .





#02-sepsis

Reducing the cytokine storm of sepsis
The cytokine storm, lead by IL-6, TNF-alpha and other pro-inflammatory cytokines is the primary or sole cause of death - and probably of pneumonia and so most hospital admissions. The graphs in Fei Zhou et al. Clinical course and risk factors for mortality of adult inpatients with COVID-19 in Wuhan, China: a retrospective cohort study
www.thelancet.com/journals/lancet/article/PIIS0140-6736(20)30566-3/fulltext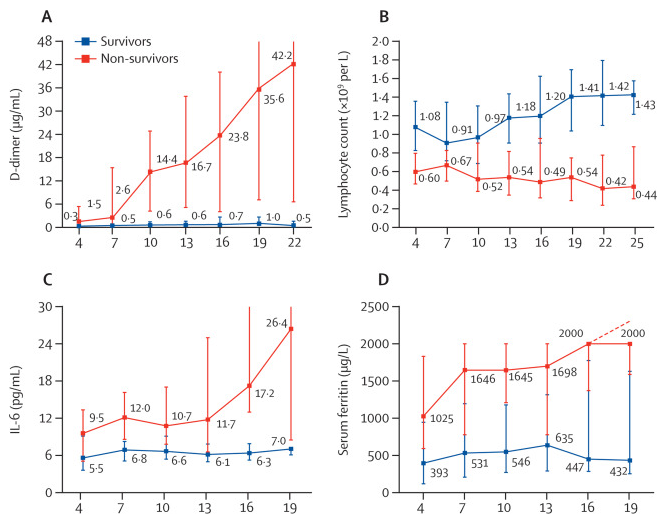 show that those who survived usually did so without radically elevated IL-6 levels, and that those whose IL-6 levels kept on rising died. Thrombosis (D-dimer) increased progressively in those who died, but not in survivors. These averages are extremely divergent. Serum ferritin kept rising in those who died, indicating not iron overload, but (www.bmj.com/content/351/bmj.h3692.full) excessive inflammation.

The real enemy with COVID-19 is not the virus itself, but the excessive and inappropriate inflammatory response to it - the same thing which drives sepsis, neurodegeneration (Alzheimers, Parkinsons), osteoporosis, diabetes etc. One probable cause of this is that some aspects of our immune system are far more aggressive than they should be, due to them evolving in the presence of ubiquitous infection with intestinal parasites and/or H. pylori, both which attenuate these mechanisms. However, now is not the time for helminthic therapy. (Google search for helminthic therapy.)


Another set of causes, which can be fixed - and must be fixed in the next few weeks in order to prevent millions of deaths - are nutritional deficiencies, particularly in vitamin D, boron, omega 3 PUFAs and probably other nutrients such as vitamin C. For brevity I state the following arguments as if they were facts.

The

overly-aggressive inflammatory response which drives sepsis

is supposedly not understood: www.sepsis.org/sepsis-basics/what-is-sepsis/ . However, a Google scholar search for inflammation and helminths makes it clear that our lack of intestinal parasites now plays a major role in the

excessive, inappropriate, inflammatory response

which drives asthma, Alzheimers / Parkinsons disease (and other forms of neurodegeneration), osteoporosis , Crohn's disease, periodontal disease, atherosclerosis etc. etc.

It is also clear, as you will read below, that common nutritional deficiencies also drive this inflammation.

Perplexed sidebar:



Starting in March 2020 and peaking in May, June and beyond, billions of people will contract COVID-19 and a substantial fraction of them will be pushed into sepsis-induced pneumonia, respiratory distress and organ failure - with a high risk of lasting disability and death.


Doctors, nurses and health organisations have an urgent responsibility to read the research and make the connections so they can advise everyone on readily available nutritional supplements which will reduce the incidence of sepsis in the months to come. These levels of nutrition are known to be safe. There is no need, or time, for RCTs.




#03-vit-d

Vitamin D3
Please see the section below #03-vit-d-dose which lists doctor's vitamin D3 recommended doses for prophylaxis and for those with COVID-19 infection. Dr Paul Marik recommends 5000IU in both cases.


Vitamin D deficiency is a major causative factor for Acute Respiratory Distress Syndrome, which is what kills most people with COVID-19.

This boldly titled open access article makes it abundantly clear that very low levels of vitamin D3 are an essential precondition for most cases of ARDS. This is cited by 62 other articles.


Dancer RCA, Parekh D, Lax S, et al.
Vitamin D deficiency contributes directly to the acute respiratory distress syndrome (ARDS)
Thorax 2015;70:617-624.
thorax.bmj.com/content/70/7/617



20nmol/L = 8 ng/ml. This is a very low vitamin D level.

Many of these people are dying due to an easily correctable, extreme, nutritional deficiency! Every supermarket has vitamin D3 capsules. If they took one or two of these a day they probably wouldn't be in hospital at all.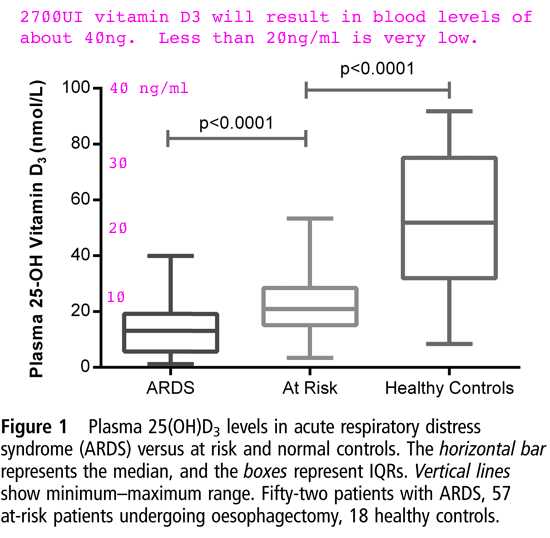 COVID-19 kills most of its victims due to ARDS (WP). This results from the same overly-aggressive pro-inflammatory sepsis which kills people with heart, kidney or liver failure even if their lungs fail and they are on a ventilator or ECMO.

COVID-19 is just another triggering condition, one of many, for ARDS. However, it may have unique characteristics which make it a particularly severe trigger. One such mechanism, which it shares with SARS, is that the virus attaches to ACE2 (WP) transmembrane proteins in particular types of cells in the lungs, liver and other organs. When it attaches it causes the ACE2 molecule to be pulled into the cell, with the virus still attached.

COVID-19 sufferers surely have significantly fewer active ACE2 molecules available to play their role as an enzyme in the renin-angiotensin system, where moderates processes which increase blood pressure and have numerous other local effects in particular organs A 2008 explanation of this system is: journals.physiology.org/doi/pdf/10.1152/physrev.00036.2005 .

The extremely low vitamin D level of ARDS sufferers might, in part, be explained as an effect of ARDS or of other processes which accompany or drive it. A much more important explanation for this relationship is that vitamin D deficiency directly

causes

or at least

significantly contributes to

the sepsis - the overly-aggressive pro-inflammatory response - which in this scenario manifests as the condition we know as ARDS.

A Google Scholar search for

ARDS

and

vitamin D

turns up plenty of articles, but none yet on an RCT involving vitamin D supplementation.

Another perplexed sidebar 2020-03-31 - this time really perplexed:


ARDS isn't the only lung problem caused by vitamin D deficiency.




#2016-Han

Here is a 2016 placebo-controlled double-blind RCT giving ICU patients substantial loading (bolus) doses of vitamin D3. Of course it would have been better still if they had taken vitamin D supplements all their lives. Then they probably would not be in ICU at all.




With the knowledge from this trial, how is it ethical to admit people to hospital like this and not give them 500,000IU (12.5mg) vitamin D3 in the first 5 days?

Its not expensive, or risky.

Tina and I take one 1.25mg (50,000 IU) capsule a week. We also get some vitamin D in multivitamins and calcium citrate tablets. (We also take magnesium citrate, B complex, zinc multivitamins and 4 grams of fish oil a day.)

Until 2021-08-20 we linked to the manufacturer's site and had a picture of the 100 capsule bottle. However, due to FDA rules prohibiting advertising of any non-approved treatment for COVID-19, the manufacturer asked me to remove such references. Please email me if you want to know what the product is.


The cost is USD$30 for 100 capsules. The cost of giving ICU patients 500,000 IU vitamin D (12.5mg) is USD$3.00. To save:

36 - 18  = 18 days in hospital


So the cost of avoiding one day in hospital, with vitamin D supplementation = USD$0.17.


If the drug companies found a patentable compound with this effectiveness and safety profile, they would be selling it for $100 per capsule AND they would be advertising it to doctors and the public AND everyone would think it was a modern marvel and be very happy to pay good money for it.

Instead, because it is a cheap nutrient, which no-one makes much money from, hardly anyone sings its praises - and year after year, people suffer grave illness and death, with billions of dollars of hospital and drug costs, since only a subset of the population use it.

Doctors do, at times, advise their patients to take vitamin D3, omega 3 fatty acids and other nutrients. However, it is my impression that the dosage can be rather low, such as 2000IU or less, when research (below) indicates that about twice this would better protect against numerous diseases.

Vitamin D3 is exceedingly inexpensive. At PureBulk a powder made up of 0.2549% vitamin D3 sells for USD$93 per kilogram. This contains 2.549 grams of vitamin D3, at a cost of USD$36.48 per gram. At 4000IU a day, this would last for 69 years. At this rate, the 5 million IU (125mg) in the above bottle would cost USD$4.56.

At this price, the cost of saving 18 days in hospital would be USD$0.46.

In bulk, a kilogram of pharmaceutical grade vitamin D3 (colecalciferol USP) costs USD$13,553 from a US supplier (link), or USD$2500 from a Chinese manufacturer (link).

100 years supply at 4000IU a day is 3.7 grams, which is USD$9.25 at the Chinese wholesale price. So, not counting the cost and effort of splitting it into 5,200 weekly capsules (there's no need to take it every day), a vast array of diseases and chronic conditions could be largely or entirely avoided, for

9 cents a year

.

It is clear that vitamin D deficiency plays a crucial, causative, role in many lung diseases. It is reasonable to assume that it plays a crucial role in most of the suffering and death caused by COVID-19. The same would be true of the most serious consequences of influenza.

If everyone in the world took a decent amount of vitamin D, such as 4000IU, it would be reasonable to expect that COVID-19 wouldn't be such a big deal. It would be a new virus, which makes some people ill for a while, and it would cause few if any deaths worldwide.



So the entire human world is being disrupted, and hundreds of thousands or millions of people are going to die because they didn't take an adequate vitamin D supplement?



As far as I can see, this is true.

So why are our health authorities not urging everyone to take vitamin D? Now? Or years ago? Hopefully they will.

There would be far less work for doctors and hospitals, and billions of dollars less spent on drugs. One can imagine a conspiracy of drug companies suppressing vitamin D, boron etc. but I don't think they are doing this.

It is as if the medical profession is focussed on sick people, the complexities of their illnesses, and the costly, difficult and sophisticated acute interventions they have learned to help these people get well again.

Yet it is easy and inexpensive to fix these nutritional deficiencies such as for vitamin D - which would save so much suffering. It is a easier than supplementing with potassium, (see kna/ ) but that is easier and better than using blood pressure drugs. It is a lot easier than getting people to give up smoking. And that is easier than having to cope with the damage smoking causes.



A 2014 article PMC4220998 relates blood levels to vitamin D3 supplement quantities for underweight, normal, overweight and obese people. For normal weight people, 4000 IU/d provides 117 nmol/L, which is 47 ng/ml. Toxicity (PMC6158375) occurs with blood levels more than three times this.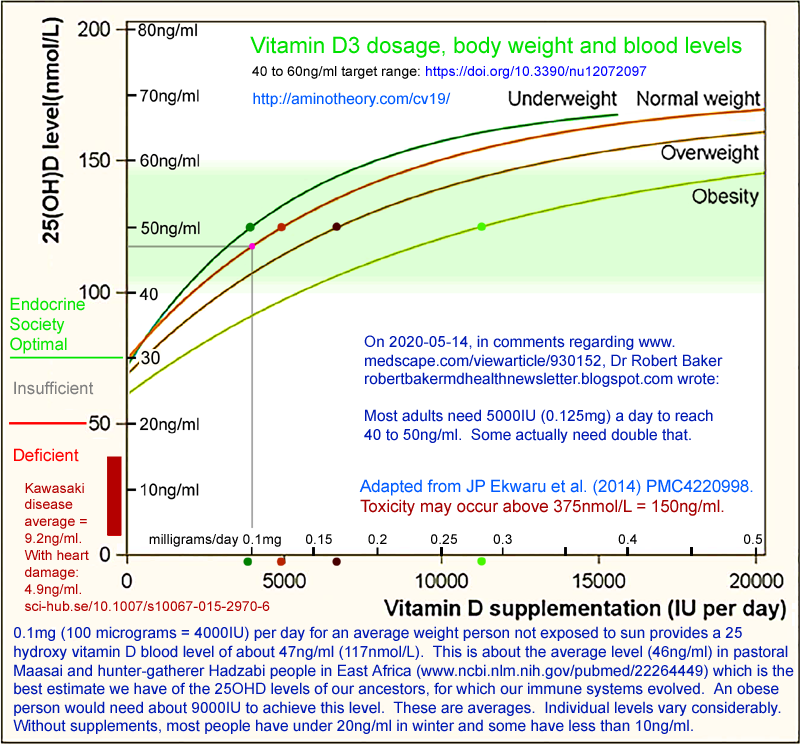 If all adults (who wisely have little UVB exposure) took 4000IU vitamin D3 a day (a gram every 27 years) then they would avoid most of the diseases caused by vitamin D deficiency. This chart from Garland et al. 2014 PMC4103214 shows the importance of achieving at least 40ng/ml.




A chart from one of the co-authors, (vitamindwiki.com/Chart%20of%20Vitamin%20D%20levels%20vs%20disease%20-%20Grassroots%20Health%20June%202013) labels the various conditions:

(Right click the image to see it at full size.)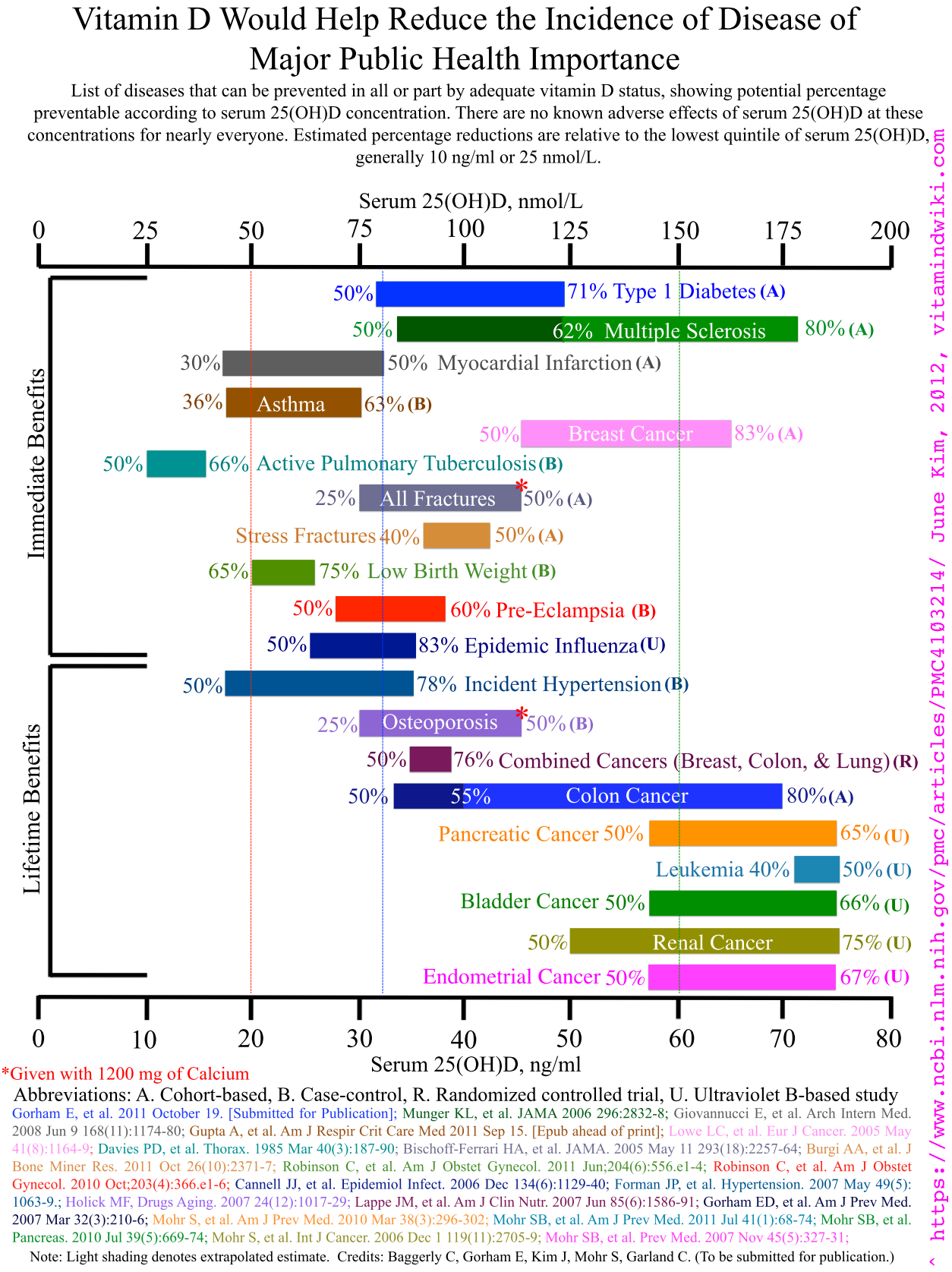 Numerous peer-reviewed journal articles showing adequate vitamin D reduces inflammation AKA sepsis can be found at:
www.ncbi.nlm.nih.gov/pmc/articles/PMC4070857/ (Vitamin D and inflammatory diseases, 2014. Google reports 227 citations.)

#03-vit-d-dose
COVID-19 Vitamin D dose recommendations from doctors

See the d3/ page for supplemental intake quantities according to body weight.

Please let me know any published recommendations not listed here, from doctors or health authorities - for the public in general, and especially for the public preparing for COVID-19 infection. These are implicitly for adults, since children seem not to have much trouble with COVID-19.



Version 2 (2020-03-30) of an extensive review article:



Evidence That Vitamin D Supplementation Could Reduce Risk of Influenza and COVID-19 Infections and Deaths

(2020)
William B. Grant et al.
www.preprints.org/manuscript/202003.0235/v2
#04-omega-3
Omega 3 PUFAs

The same is true of omega 3 fatty acids. I believe that if the WHO et al. recommended adults take 2 grams of fish oil a day and 4000IU vitamin D3, that this - to the extent that people were willing and able to comply - would significantly reduce disease severity and death for hundreds of millions of people, especially those with a Western, indoor, lifestyle.

openheart.bmj.com/content/5/2/e000946 Importance of maintaining a low omega–6/omega–3 ratio for reducing inflammation (2018)

(2017)

N-3 PUFAs induce inflammatory tolerance by formation of KEAP1-containing SQSTM1/p62-bodies and activation of NFE2L2


www.tandfonline.com/doi/full/10.1080/15548627.2017.1345411

Zinc

It may be best to recommend zinc supplements, since Zn++ in the cytoplasm inhibits viral RNA synthesis - including zinc lozenges to slow the initial infection in the throat, before it gets into the lungs. Zinc is needed for hundreds of enzymes. Please see what Google scholar returns for zinc inflammation immune.

Another potential reason for advising people take, for instance, 25mg zinc per day as chelate is that oral zinc 225mg a day (as best I understand it) is recommended for patients who do not yet need breathing support.

Paul Marik's COVID-19 Treatment Strategy

- see icu/#Marik-protocol .




Vitamin C
I suggest you recommend a substantial but safe level of

vitamin C

oral supplementation, since it is known to reduce respiratory infections and to reduce sepsis when used intravenously. A vet reports IV vitamin C is routinely used for saving animals from sepsis (medium.com/@anmldoc/i-really-do-not-know-d657e669e749). She cites Paul Marik MD (www.pilotonline.com/news/health/article_7a3063e5-24cf-56c1-b25c-142731604196.html) who uses IV vitamin C and hyrdocortisone with success against sepsis in humans.



Paul Marik's COVID-19 Treatment Strategy

- see icu/#Marik-protocol - recommends 500mg oral vitamin C 2 or 3 times a day for patients who do not require breathing support, and for those in ICU, intravenous vitamin C 3 grams every 6 hours. From (2017)

Vitamin C and Immune Function

:


Soon, hundreds of millions of people with COVID-19 breathing difficulties will be at home, unable to access care in hospitals or doctors' clinics. Should uninfected people be advised to take 250mg vitamin C a day, and those with fever, sore throats and/or breathing difficulties (sepsis induced pneumonia) be advised to take 1000mg or more, subject to concerns about diarrhea? (I assume that for the duration of the illness kidney stones are not a significant concern: www.ncbi.nlm.nih.gov/pmc/articles/PMC4769668/ )

Intravenous vitamin C 1500mg 3 or 4 times a day (with hydroxychloroquine, azithromycin and other drugs) is helping COVID-19 patients in New York: nypost.com/2020/03/24/new-york-hospitals-treating-coronavirus-patients-with-vitamin-c/
Dr Andrew G. Weber said:




#07-vit-b1

Vitamin B1 thiamine

(Not to be confused with theanine, as found in green tea.)

I have not studied thiamine (WP), but a Google Scholar search for

thiamine inflammation

turns up plenty of articles, such as:


My reason for including it here is that vitamin B1 is a component of the


Paul Marik's COVID-19 Treatment Strategy

- see icu/#Marik-protocol , though not for patients with mild symptoms. Those with breathing difficulties, in ICU, are given 200mg thiamine every 12 hours, orally or intravenously. This seems a lot, considering the RDA is 1.0 to 1.2mg. This search turns up various relevant articles.

www.ncbi.nlm.nih.gov/pmc/articles/PMC6206928/ (2018)

Ascorbic acid, corticosteroids, and thiamine in sepsis: a review of the biologic rationale and the present state of clinical evaluation



The ordinary retail B complex tablet my wife Tina and I take every day has 15mg of vitamin B1. Our multivitamin has 2.2mg. Given the correlation between low vitamin B1 and sepsis, it seems prudent to take ordinary vitamin B1 supplements, especially since it is "relatively nontoxic" www.drugs.com/monograph/thiamine-hydrochloride.html .


#08-boron

Boron

2020-06-15: I have a box of boron research papers and am keen to write them up as an annotated bibliography. I don't know when I will have the time for this. I will do it on the new website.

For now, please start by reading this excellent review article from 2018, which has a lot of links to research on boron's role in the immune system, especially regarding inflammation.


In this section I want to raise your awareness of boron

as an essential nutrient

which could save hundred of millions of people from sepsis-induced illness and death with COVID-19. Please take a look at a recent review article:
PMC4712861/ Nothing Boring about Boron (2015)

the work of long-time US Department of Agriculture boron researcher, Forrest Nielsen, such as:
www.researchgate.net/publication/254082639_Growing_Evidence_for_Human_Health_Benefits_of_Boron (2011, cited by 60.)


scholar.google.com/scholar?q=Forrest+Nielsen+boron

and the research cited at: ods.od.

nih

.gov/factsheets/Boron-HealthProfessional/ .

One advantage of boron over the other micronutrients mentioned here is that while supplies of the others could easily be snapped up if everyone wanted them, there is plenty of boron for the whole population sitting on supermarket shelves, in the form of laundry borax.

It is a scandal that boron is not officially recognised as an essential nutrient. Most people turn their noses up at the thought. The word sounds like "boring" and rhymes with "moron". They know borax is used in laundry, as a welding flux, as an ant and cockroach poison and in children's slime. Many people recoil at the idea of ingesting boron, because they see borax is the active ingredient of Ant Rid (8.5% borax). But boron is in many foods, and vitamin D3 is a widely used rat and mouse poison. (See my second comment at quillette.com/2020/03/22/covid-19-statistical-and-science-update-for-march-22/ .)


The naturally pure mineral borax - sodium tetraborate - is mined at large scale in Turkey and California, and then refined into the bright crystals sold in supermarkets. USP boron is used in nutritional supplements and medication, but it is difficult to obtain at a retail level.


If a drug company found a patentable compound with boron's health benefits and safety profile - including especially its ability to restrain the body's overactive, sepsis-causing, inflammatory response - then we would all be singing its praises and paying top dollar for it.

Borax, 100mg a day, in water solution, provides 11.36mg boron a day, and I believe this will significantly reduce the inflammation which is killing COVID-19 patients. (I have a box of journal articles on boron, and no time now to write up an annotated bibliography of boron nutrition.)


Side note on borax regulation in the EU, including the UK:

Laundry borax is available by the kilogram in most supermarkets in Australia and the USA. My wife Tina and I use this - plain laundry borax is plenty pure enough. (The Eti mine in Turkey, which produces 47% of the world's borax, specifies its technical grade borax to have no more than 15ppm Fe: www.etimaden.gov.tr/storage/uploads/2018/01/10-2017-Borax_Deca_Powder.pdf) We use: www.blants.com.au/product/natural-pure-borax-900g/ .


Our 12mg boron a day greatly improves on the typical 1mg a day in the average American diet (ods.od.nih.gov/factsheets/Boron-Consumer/ & ods.od.nih.gov/factsheets/Boron-HealthProfessional/), and is well within the tolerable maximum of 20mg a day (nap.edu/10026/):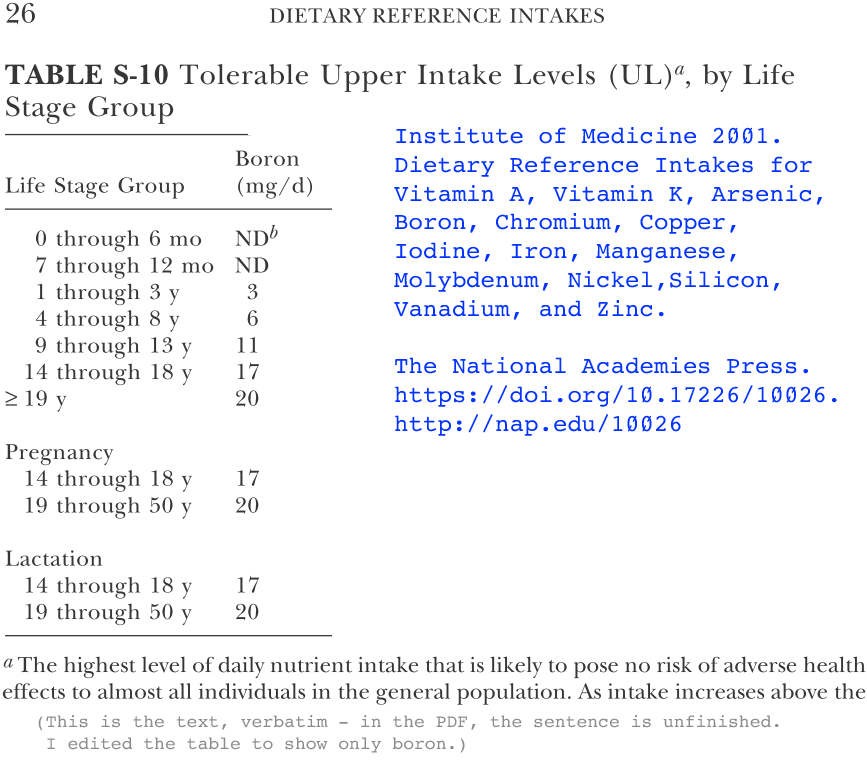 From Nothing Boring about Boron:



An assessment of high hs-CRP levels in www.ahajournals.org/doi/10.1161/JAHA.119.012638 is:

Please take a look at vitamindwiki.com/Vitamin+D+and+Boron which links to articles such as M R Naghii et al. 2011:
Comparative effects of daily and weekly boron supplementation on plasma steroid hormones and pro-inflammatory cytokines
tahomaclinic.com/Private/Articles1/SHBG/Naghii%202011%20.pdf


10mg boron per day raised Vitamin D levels and reduced inflammatory cytokine levels.
As far as I know, 12mg / day boron is safe for most people, but it is probably best to start with 3mg and increase from there. The two possible adverse reactions I am aware of are:


3mg boron capsules are readily available, but in the current emergency, I think it would be good to instruct people to get a heaped teaspoon of borax (about 8 grams), divide it by 4, and dissolve each quarter in 2 litres of water. Two 50ml drinks a day provides 11.36 mg boron.


500 grams of borax is enough for 5,000 days at this rate, so a single borax purchase would help a dozen or so households through the current crisis.

#boron-ra
While searching Google Scholar for "rheumatoid arthritis" and "boron" I found an interesting article from 2012:


These Iraqi researchers measured boron concentrations in the blood with an atomic absorption spectrophotometer. (Boron is not one of the normal blood tests run by pathology labs.) They found the average boron levels in 107

RA

patients was

21.8ng/ml

(standard deviation 8.6) while for 214 age- and sex-matched healthy

control

subjects, the average was about twice this:

43.5ng/ml

(SD 9.8). For this difference

p < 0.001

, which means that if there really was no underlying relationship, then based on the random differences between the measured values, such a deviation would only occur on average once per more than a 1000 trials. They also found some other significant inverse correlations between boron levels and RA disease severity.

Some notes about this article and the journal it was published in:




Two later articles, also from Iraq, mention boron and other mineral levels in RA patients: 2015-05 and 2015-07 . In both cases the RA patients' boron levels were also about half of those of the control subjects. These two are in a well-known predatory journal: the Pakistan-based, so-called: American Journal of Internal Medicine. I regard these articles as probably being based on real research, but not really citable due to the journal they appear in.





Boron supplement capsules and tablets are available from numerous companies, usually with 3mg boron. This is suitable for taking two a day, since this gives 6mg a day, and the half-life of boron in the bloodstream is a little less than a day. An eBay search for boron and 3mg showed products from obscure companies and major ones such as Now, Solgar, Life Extension and Solaray. The best deal I found was 250 3mg capsules for USD$6 or less: swansonvitamins.com .


I have noticed small amounts of boron, such in some Australian supplement tablets containing other compounds for arthritis:

I was pleasantly surprised to see boron in some mass-market (larger supermarkets all over Australia) multivitamin capsules, from Cenovis: https://cenovis.com.au/?s=boron :


1mg as borax: Men's Multi , Women's Multi , Women's Multi + Energy Boost & Men's Multi + Performance .

3mg as boric acid: 50+ Multi



#09-salt

Salt
Everyone knows that most people consume too much salt. See some journal article links below #salt concerning excessive salt consumption driving pro-inflammatory immune responses - and so sepsis.

Faced with the threat of imminent sepsis, I think many people could be convinced by consistent medical advice to go easy on salt. This should go along with the obligatory warnings to reduce or eliminate smoking and alcohol.


#10-exercise

Exercise
Regular moderate exercise helps build a robust and

well-regulated

(against sepsis) immune system. This 2018 article argues against the view that intense exercise decreases immune competency: pubmed/29713319.


The challenge is to maintain or increase regular exercise in a time of social distancing and shelter-in-place.



#11-ht-drugs

Potassium supplementation with potassium gluconate solution is superior to blood pressure medication
Please see the separate page on this: http://aminotheory.com/cv19/kna/ .


#12-blind-spots

Overcoming Western Medicine's blind spots in the next week or two

Conventional Western medicine excels at surgery and other acute interventions, but has blind-spots regarding nutrition and chronic diseases.


Since there is no money to be made from the nutrients mentioned above, their full benefits are known only to some clinicians and researchers. In the developed world, most people are deficient in potassium, vitamin D and especially boron. This leads to illness with aging, diabetes, stroke, CVD, sepsis etc.

As best we know, SARS-CoV-2 will induce debilitating and potentially deadly sepsis in 5 to 20% of the population in April, May and June. The terrible toll which is likely to come from this is due, in large part, to easily corrected nutritional inadequacies. These they can be solved, since the necessary nutrients are widely available.


It is not right for me to be making such recommendations to the public at large, since I have no medical training. I am an electronic technician, computer programmer and amateur neuroscientist: aminotheory.com/rlsd/briefsumm/ .

To the extent that advice such as the above is valid, it needs to come from clinicians and health authorities

.






---

#links
COVID-19 and sepsis resources for healthcare professionals
[#ssc] Some aspects of the medical establishment are overly-resistant to new information: emcrit.org/pulmcrit/coronavirus/ . This 2020-02-04 article, by Josh Farkas MD (associate professor of Pulmonary and Critical Care Medicine at the University of Vermont) is also critical of some aspects of the current WHO COVID-19 guidelines. It starts with a picture of someone drowning.

[#marik] "

Marik Protocol

" is an informal name for a series of recommendations regarding critical care patients, including IV vitamin C and vitamin B1. Please see icu/#Marik-protocol .
Kristina E. Rudd et al. 2020:

Global, regional, and national sepsis incidence and mortality, 1990–2017: analysis for the Global Burden of Disease Study

www.thelancet.com/journals/lancet/article/PIIS0140-6736(19)32989-7/fulltext report that in 2017 there were about 48.9 million deaths from

sepsis

, representing about 19.7% of all deaths.


A 2019 article reporting that rats fed the equivalent of a Western diet, high in

sugar

and

saturated fats

(omega 3 fatty acids found in fish and algae are unsaturated) had much higher levels (estimated from gene expression) of the pro-inflammatory cytokines

TNF

(tumor necrosis factor) and IL-6 (interleukin-6) than rats fed fiber-rich chow, when injected with a bacterial endotoxin lipopolysaccharide (LPS) elsewhere described as "the most potent microbial mediator implicated in the pathogenesis of sepsis and septic shock".

Western diet regulates immune status and the response to LPS-driven sepsis independent of diet-associated microbiome

www.pnas.org/content/116/9/3688
COVID-19 and sepsis links:
---

To the index page of this site: ../
Contact details and copyright information: ../contact/
© 2020 Robin Whittle Daylesford, Victoria, Australia